This event builds community by recycling and reusing books provided by the La Entrada Community.
---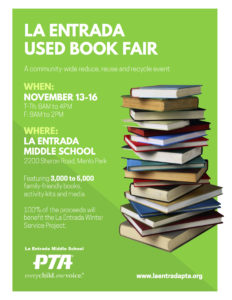 The La Entrada community donates between 6,000 and 8,000 books as well as new or gently used activity kits and media (family friendly or educational music, videos and games) for this event. 100% of the proceeds go toward the school-wide Winter Service Project and unsold books are donated to local schools and nonprofit organizations.
The 2020-2021 Used Book Fair has not yet been scheduled due to changing health conditions.
*We collect fiction and non-fiction books in good condition and in all languages for children and adults. We do not accept textbooks, reference books, used workbooks or coloring books.
VOLUNTEER RESPONSIBILITIES:  Volunteers sort books, set up the store, sell books, and clean up after the event.
CONTACT: usedbookfair@laentradapta.org.