This school-wide service project gives students an opportunity to pack nutritious meals for children who experience food insecurity.
---
WATCH THE VIDEO
Research shows that thoughtfully organized service experiences build children's confidence, compassion and connection to their school and broader community.
During this school-wide meal-kit build with nonprofit partner Rise Against Hunger, students will work in teams to weigh, measure and package nutritious dehydrated meals (rice, soy, vegetables, vitamin mix) to be distributed to children who experience food insecurity.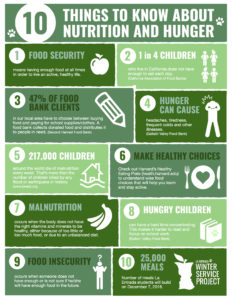 Our school packed 33,480 meals on December 7, 2018! For information on how to continue to fight hunger this year, click here.
VOLUNTEER RESPONSIBILITIES:  Volunteers are needed on the day of the event to assist students in the assembly line and clean up after the event.
VOLUNTEER
Note: Clicking this button will take you to the PTA Portal, where you can select "Winter Service Project" from the events list (if you do not see this event, we are not recruiting volunteers at this time). If you are not yet registered with the PTA Portal/School Directory, click here.
If you have any questions about this program, please email the Community Partnership Chair at communitypartnership@laentradapta.org.
Last updated: 01/14/19