The PTA Portal lets members of the La Entrada community access The Leopard's Spot eNewsletter, district directory, volunteer signups and more from any device, any time. Like other PTA programs, this service is free to our community. It only takes two minutes to sign up!
---
GO TO THE PORTAL
To join:
1. Click the "Go to the Portal" button above and push the "Login/Register/Update Info" button.
2. Select "Create Account" and fill in your name, email, and your new password. Click "verify my email" and then check your email for a link to complete the process. The link expires in two hours. (If you do not receive the email, check your spam or junk folders.)
3. Once you verify your email address, log back in and enter your child's grade level, teacher and mailing address. Including all of your contact information will ensure receipt of the Leopard's Spot. (You may opt to keep your information private at this point.)
4. Once your family account is set up, you can "invite" other parents/guardians to access it with their own unique login information.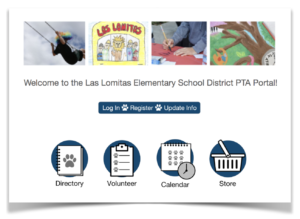 Download the mobile app 
DOWNLOAD FROM APPLE
maxbutton id="41″ url="https://play.google.com/store/apps/details?id=com.membershiptoolkit.mobileapp&hl=en_US" text="DOWNLOAD FROM GOOGLE" ]
To subscribe to the Leopard's Spot eNewsletter simply add your child's grade level. All families with students in grades 4 through 8 will automatically receive the Spot.
About the PTA Portal
With this tool, La Entrada community members can keep their information up-to-date while controlling their privacy settings.
The information contained in the PTA Portal is for use by families and staff of the Las Lomitas School District for non-commercial purposes only. It is NOT available to the general public.