PURPOSE:
To provide a convenient, healthy, lunch option for students.
How to order school lunches for your child:

Orders are placed online through Choicelunch and may be made throughout the year as families see fit. To sign up, you must establish an account with Choicelunch by accessing their website and using "atherton" as the registration code.

Note: If you have already created an account for a Las Lomitas student, you can simply log in and add your La Entrada student(s).  You do not need to create a second account.
DESCRIPTION: The PTA Hot Lunch Committee works hard to ensure that our families and kids are happy with our hot lunch program.  The Hot Food Program uses a company called Choicelunch to provide meals for our students.  Choicelunch is the leading hot lunch provider to many schools in the Bay Area.   Using their online tool you can conveniently select lunches from a wide daily selection of delicious meals – both hot and cold.   You may also manage many aspects of your lunch service experience, such as making changes to an existing order, viewing/changing details of your account, browsing through nutrition news and resources, and much more!
Hot and cold lunch options are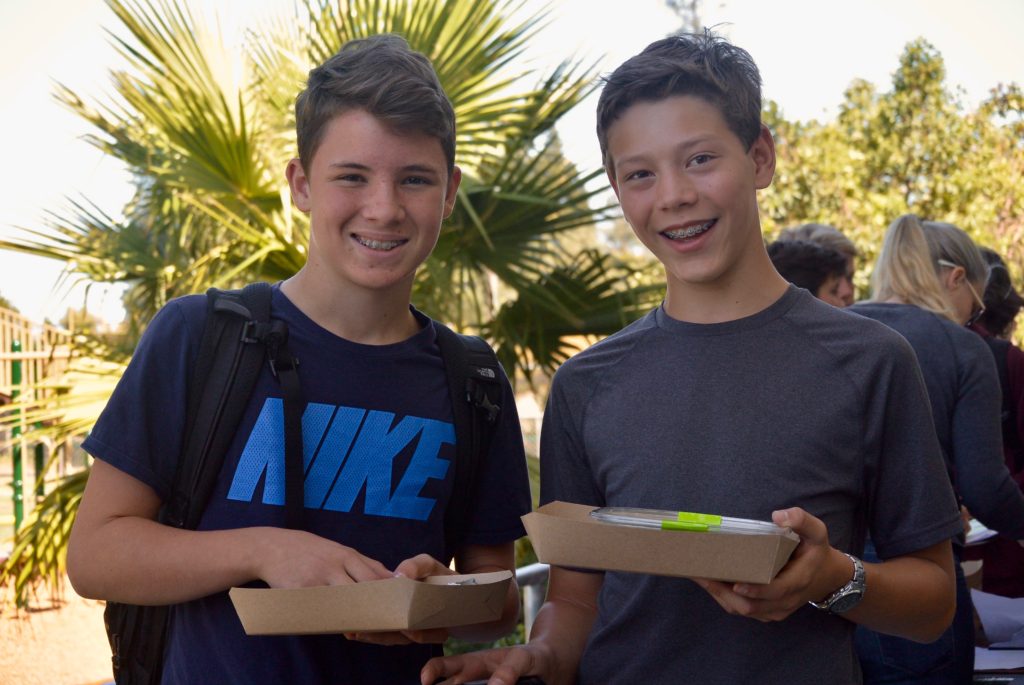 available 5 days a week.  There are typically over 10
options to choose from daily.  Regular and large-sized portions are available.  All lunches meet the California State nutrition guidelines and include a main course, fruit or vegetable, snack item and a drink.  Drink-only purchases are also available.  Please see www.choicelunch.com for more information.
You will be contacted by Choicelunch as soon as the menus are available so you can place your order.
VOLUNTEER RESPONSIBILITIES: Our hot lunch program relies on parent volunteers to serve the meals and the program cannot exist without those volunteers.
Five volunteers including a point person (day chair) are needed for 40 minutes during each lunch shift – 4/5 lunch and 6/7/8 lunch periods. A total of four lunch stations are set requiring a volunteer for each, and a fifth volunteer is needed to take care of emergency lunches. Hot lunch volunteers must work quickly and efficiently in order to get the students their lunch as soon as possible.

A weekly commitment on a given day would be highly appreciated, although arrangements can be made by the volunteers to commit as their personal schedule allows.  It is also a great opportunity to socialize with other parents, see your child and meet their friends, and to connect regularly with other parents and school personnel. Each current hot lunch day chair organizes and trains (if necessary) other volunteers, and is also working that day.
We hope you can help with this highly rewarding and critically necessary volunteer program at La Entrada.
CONTACT: If you have any questions about the hot lunch program, please email the committee chair, Patricia Villareal-Wong, at hotlunch@laentradapta.org.
Volunteer! 
If you'd like to volunteer for the Hot Lunch program, please enter your contact info below. In the "COMMENTS" box, let us know which weekday(s) you are available.
Please note: Parents who regularly volunteer at school may be required to undergo a TB risk assessment questionnaire (if not done within the past 3 years) and finger-printing. This includes Hot Lunch Volunteers.  The Committee Co-Chairs will provide further information to new volunteers at the beginning of the school year.
2017-18 Day Chairs:

Mon: Patricia Wong, both shifts
Tues: Alicia Skolak, both shifts
Wed: Liesl Noble, both shifts
Thurs: Céline Malvoisin 4/5 shift, Laura Purpura and Rebecca Grant 6-8 shift
Fri: Carol Sesnon 4/5 shift, Julie Chandik and Lori Kopansky 6-8 shift
Last updated: 12/09/17