The Visual Arts Showcase gives students of all ages and abilities the opportunity to create and display original works of visual art and photography.
---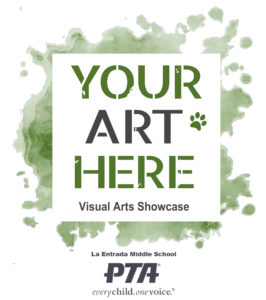 This event celebrates student artwork and photography in conjunction with the La Entrada Associated Student Body's Talent Show. As part of the National PTA's "Reflections" art contest, the Visual Arts Showcase can be an entry point for student art to advance to the county, state, or national level!
The 2018 Visual Arts Showcase was a success! Thank you to our talented artists, and to Ms. Janet Gregori for inspiring so many students to participate.
The 2018 theme for the Visual Arts Showcase was "Heroes Around Me." Entries were reviewed according to how well the student used her/his artistic vision to portray the theme, as well as his/her originality, creativity and technique.
The Showcase celebrates the following types of visual art:
architectural drawings/models
ceramics
collage
computer generated images and graphics
crafts
drawing
fashion (clothes and jewelry)
fiber work
mixed media
painting
photography
printmaking
La Entrada students compete in 4th-5th and 6th-8th grade divisions for each category.

A panel of visual arts experts from our community review artist entries into the Visual Arts Showcase.
ENTER PANEL PORTAL
VOLUNTEER RESPONSIBILITIES: Help recruit community judges, promote the event and assist with the Showcase.
CONTACT: visual_arts@laentradapta.org.