Congratulations
, Showcase winners and participants! Please scroll down to view the artwork created by La Entrada students in grades 4-8.
---
WINNER: INTERMEDIATE (Grades 3-5)
Vienna F.: Our Troops
Artist Statement: People in the military, both current and former, are heroes around us in everyday life.  I made the focus of my drawing the uniform itself and drew this picture without depicting a face.  My idea was that the picture did not need a head or face because all different kinds of people can be military heroes, whether they are men or women, as well as people of any age, color or religion.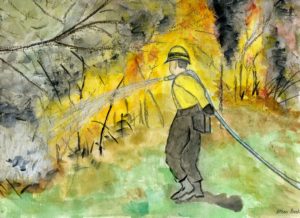 WINNER: MIDDLE SCHOOL (Grades 6-8)
Ethan B.: Holding the Line
Artist Statement: I have enjoyed hiking through the California parks and open space preserves for many years, but in the past several years, California has had some major droughts. Giant fires have raged across the state. Forest rangers are often the first line of defense for these naturally-occurring forest fires. Many people owe their lives to these brave forest rangers. While others flee, forest rangers run in without hesitation. These unselfish forest rangers put others first, sometimes making the ultimate sacrifice to save people and communities, and to preserve our natural resources.
HONORABLE MENTION
Zoe G.: Super Women
Artist Statement: My picture is of The Women's March. The women that attended that event are heroes in my opinion. I remember hearing about it from my parents and other people around me. I wanted to go myself, but it was in D.C. Therefore my Grandma went instead. She is a hero, and so are all the females who fought for female rights that day. The image itself depicts a group of women marching together from all around the world. It is watercolor, marker and colored pencil.
2018 LA ENTRADA STUDENT ENTRIES
Arthur R.: I have a hero, I call him Dad
Artist Statement: I chose my hero to be my dad. I chose him because he was a volunteer fire-fighter for five years in Belgium before going into AI (Artificial Intelligence). I want to honor him for all he's done and the countless lives he saved.
Avary S.: Small Actions, Big Impact
Artist Statement: My work is about a little girl and her dog. The girl has just fallen down, and the dog (being a loyal friend) is there by her side. Comforting her. My point is that dogs are loyal creatures, and no matter how small their action is, we need to remember that they are heroes around us.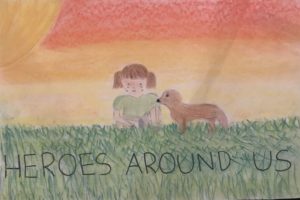 Bethan P.: What we see, What we remember
Artist Statement: My art shows how we forget what we see but will always remember how it affects us. My painting is of a dear friend who is always there for me and is a true hero to others.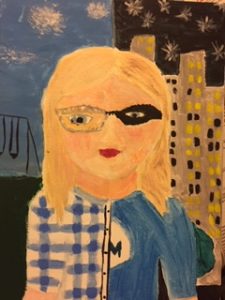 Caroline B.: Wild Fire
Artist Statement: Firefighters around the world are fighting wildfires everyday to help humans and animals. This piece of art represents the firefighters that help us survive and keep our homes for occurring events. I hope my artwork reminds you to thank the firefighters when you see them around.
Caroline P.: Heroism in Everyday Life
Artist Statement: When people think of heroes, they think of the superheroes in movies. However, my piece shows how every small act of kindness can make a huge difference and makes you someone's hero.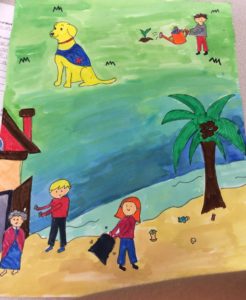 Celine C.: The Heroes Around Us
Artist Statement: My artwork displays different people (heroes) in our world doing "heroic" things that they do on a daily basis. What they do affects and helps all the people around us, so that is why I made this piece.
Dana R.: My Uncle
Artist Statement: My peice is picture of my uncle, he is in the army and has gone to places of war five times. In my peice, I used dark colors on one side and light colors on the other. The dark represents evil and the bright colors represent good. My uncle is my hero, and I know that he is a hero to other people, too.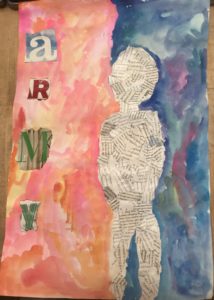 Elizabeth H.: Our Hero Veterans
Artist Statement: My grandfather fought in the Vietnam War. Ever since, I have thought of him and our veterans as heroes because they risked their lives to save us, they left their families to fight for their side, and they died for the safety of us.
Erin O.: One Act of Kindness
Artist Statement: My work shows a girl helping someone up; she is the only one in color. She is lifting someone up, and smiling at the person she is helping stand. The scenery is gray, but she is bright. She is not a superhero, but she is kind. That's what matters.
Evie N.: Eye of B
Artist Statement: My art work is an eye. The reason why it's blue is because my aunt has blue eyes. She is my hero. It was made awhile ago (completed on 5/10/18), but I love it best because it reminds me of my bead buddy, Aunt, and inspiration.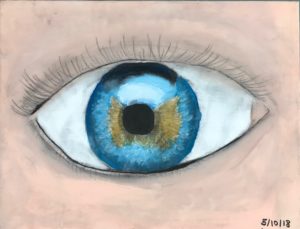 Holly C.: Service Dog to the Rescue
Artist Statement: My piece is about a service dog walking across grass. This relates the the theme because service dogs save lives everyday.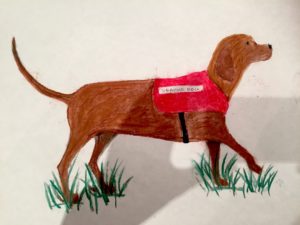 Ian C.: My Heroes
Artist Statement: I have three people in my family who are fighting through diseases. My brother had PNS (pediatric autoimmune nueropsychiatric disorder) for 6 years. My sister also had PANS for one year and still has it. My mom had cancer. These people in my life are my heroes.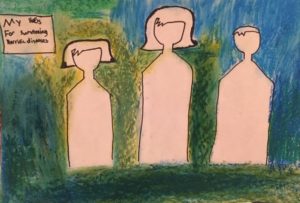 Jackson H.: The Building
Artist Statement: The hero that I chose is a firefighter. They are the ones that help us, save us, and take care of us. A good hero is responsible, caring, and determined. I believe that firefighters are all of these. The picture that I made is a fire truck pulling up to a burning building.
Jiwon B.: People of Hope
Artist Statement: The old man in this picture was once a fire fighter that saved many lives. The old man's reflection in the pond shows that he was a fire fighter once. It relates to the theme because there is a fire fighter in the reflection and fire fighters risk their lives to save other people's lives. I selected fire fighter as a hero because I thought they were really brave.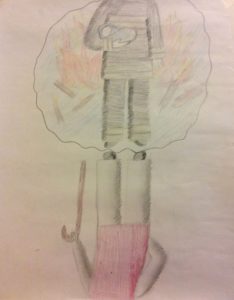 Jonathan T.: Heroic Harmony
Artist Statement: My piece depicts a trumpet being played by an outline of a man. These two things represent my trumpet teacher. He has helped me a great deal in improving my trumpet playing skills and has always given me great ideas. This is my definition of heroism.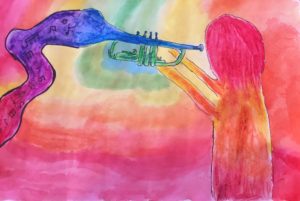 Jonny H.: Throwing Card
Artist Statement: This is part of a magic performance, the magician is Shin Lim. (This image isn't actually from one of his performances.) Magic is one of my hobbies or passions and Shin Lim is my hero or inspiration because he won America's Got Talent! The card he "threw" has magic flowing out of it in all sorts of colors.
Kayan S.: The Fireman
Artist Statement: I drew a fireman with fire around him. The theme is "Heroes Around Me". There is a fire department not very far from my house (Menlo Park Fire Department). This shows that they are around me because they are close to me. Firefighters are heroes because they risk their lives for other people. I also chose to do this piece at this time in the year because it is fire season in Northern California.
Madeline L.: Teachers
Artist Statement: My project is a word tree with all the words that describe teachers. Teachers are heroes to me because they teach us things that will help us make accomplishments later in life. They help us, guide us, and understand us. Their goal is to help all students succeed.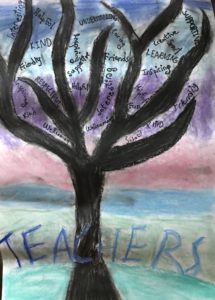 Maeve M.: What You Don't See (9″x12″, Artist's age: 11)
Artist Statement: My art piece fits with the theme because you see a normal girl in normal clothes with a lunchbox (on the left side). On the right side you see a girl in a superhero suit with a lightning super-power. My piece is what you don't see, because we're all superheros in our own way, you just might not see it at first.
Mai B.: A Hero's Flame
Artist Statement: The theme of my artwork is about firefighters. Firefighters are important to me because of the huge wildfires that have happened in California. Without firefighters, there wouldn't be an end to the fires that happened. Firefighters are important to this world, and we all need to appreciate them a lot.
McKinley P.: KC Tanker
Artist Statement: My uncle is in the Air Force and he flies a KC tanker, which is a plane that fuels up other plans midair. In this picture of my uncle is given fuel to another plane in midair. My uncle is a hero because he is in the Air Force and he helps others.
Sofia F.: Service Heroes
Artist Statement: My focus is on search and rescue dogs. They assist search and rescue teams in finding people after natural disasters like earthquakes, tsunamis, snowstorms, and avalanches. They also help policemen help find lost people. They do so much in unfortunate situations that people have to go through sometimes and have been heroes for our county.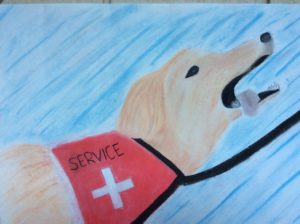 Sophia C.: The Green Beach
Artist Statement: These people are picking up trash and helping animals stuck in trash that people left behind on the beach. They are heroes because they are keeping the environment safe, clean, and healthy. These people are taking time out of their days to take care of the environment around us. Anyone can be a hero, doing something good makes you one. You don't have to have superpowers to be a hero, all it takes is to express the good in your heart.
Will C.: Fire Men at Work
Artist Statement: My art work is a scene of two firemen working together to put out a fire.The art is made up of paper cut-outs and priced together to make the scene. It release to the theme because the fire men are heroes by putting out the fire.
Yuna L.: Heroes Around Us!
Artist Statement: My work describes how I see heroes in books, and how those characters are like heroes, and they're heroes around me because they inspire me, and they are like actual heroes around me.
Kaori S.: New Year's
Artist Statement: My art relates to the theme because Rufus is always loyal. Some days I will come home fro school, cry, scream, and have my happiness be washed away. The piece represents a photo of me in kindergarten on New Year's putting a party hat on my dog. I then put my hand under his chin and posed for a photo.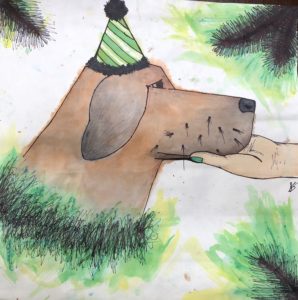 Last updated: 11/09/18